« Back to All Press
Window World Named #1 Replacement Contractor by Remodeling Magazine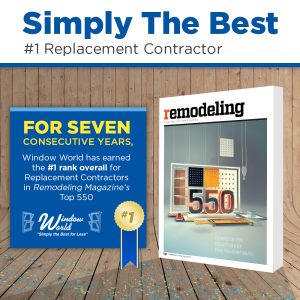 Wilkesboro, N.C., September 3rd, 2015 – Window World®, America's largest window replacement company, was recently selected by Remodeling magazine for the Remodeling 550, achieving the #1 spot among Replacement Contractors. The list of 550 businesses consists of 325 full-service companies, 150 replacement contractors, 55 franchises, and 20 insurance restoration firms. The list is determined by examination of publicly available information and record, and reports submitted by the company.
"Every award we receive, year after year, is a testament to our commitment to providing the best value in products and professional installation," said Tammy Whitworth, Window World chairman and CEO. "We are fortunate to receive such praise from the industry."
Window World has secured the top spot among replacement contractors on the list 7 years in a row. As a replacement company, Window World focuses on replacing Windows, along with Vinyl Siding, and Doors. The release came just weeks after Good Housekeeping gave Window World it's Good Housekeeping Seal for the 8th year in a row.
You can find more information on the ranking by picking up the August Issue of Remodeling magazine, or visiting the digital edition here.
---
About Window World®
Window World®, headquartered in North Wilkesboro, N.C., is America's largest replacement window and home remodeling company with over 200 locally owned and operated offices nationwide. Founded in 1995, the company sells and installs windows, siding, doors and other exterior products. To date, Window World has sold over 10 million windows. Window World is an ENERGY STAR® partner and its window products have earned the Good Housekeeping Seal for eight consecutive years. Window World has also earned "Highest In Customer Satisfaction with Windows and Doors" by J.D. Power & Associates. Additionally, through its charitable foundation Window World Cares®, the Window World family provides funding for St. Jude Children's Research Hospital®, where it was named New Corporate Partner of the Year in 2010. Since its inception in 2008, the foundation has raised over $4.5 million for St. Jude. Window World, Inc. also supports the Veterans Airlift Command, a non-profit organization that facilitates free air transportation to wounded veterans and their families.
« Back to All Press